Plan to move memorial over crowding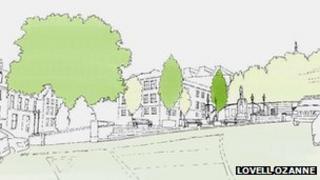 Guernsey's war memorial cannot cope with the number of people attending the Remembrance Sunday service, according to the man behind plans to move it.
John Silvester, a Town Centre Partnership trustee, wants to move it to a new piazza.
His plans would see it move above the sunken gardens and also include an underground car park.
Mr Silvester said islanders deserve better than what they have at the moment to remember the victims of war.
He said the space was barely big enough for 50 people to watch the parade but last year nearly 350 turned up.
Andrew Ozanne, the project architect, said a lot of the site would be overground to reduce disruption to road users.
"Guernsey needs to have a proper facility for the service of remembrance and this would provide that facility," he said.
Eric Le Quesne, president of the Royal British Legion in Guernsey, said congestion stops a proper service from being held at the moment.
He said that with the 100th anniversary of World War I coming up in 2014, it was essential Guernsey had a proper memorial site.
"It is a unique opportunity for Guernsey to acquire a nice open space in the heart of St Peter Port where remembrance can have a degree of dignity it lacks at the moment," he said.