Guernsey bus service: 'Concern' over proposed changes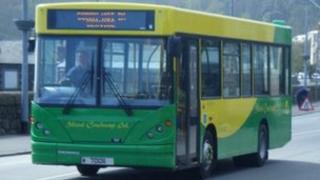 Proposed changes for Guernsey bus service came under heavy criticism at a public meeting on Monday.
About 100 people went to a presentation by the Environment Department to voice their concerns at the planned changes as part of a consultation.
Speakers attacked the plans for cutting key routes, potentially damaging the taxi industry and for being discriminatory towards non-locals.
Bus operator, CT Plus, proposed the changes to come in from 13 May.
Environment minister, Roger Domaille, said: "With these changes there are winners and there are losers, we believe there are more winners than losers and we are expecting an increase in bus usage."
Loss of trade
At the meeting a taxi driver said the late night and weekend services would harm his business.
He said: "You want to go out there and take Friday and Saturday night trade only which are the only two nights worth doing the job, that is unacceptable."
The changes will include more buses for the most in demand routes, more late night routes serving the town and a new fare structure asking tourists to pay more.
The company is proposing the introduction of weekend night buses serving the west coast, the Bridge and St Martin until the early hours.
It has also put forward plans for a new number 11 service to run between the Vale and Torteval every 15 minutes at peak times, as well as passing by the airport and the town centre.
A public consultation into the proposals, being carried out by the the Environment Department, has been started and is due to last for two weeks.