Guernsey Police blow up 'dangerous' WWII mortars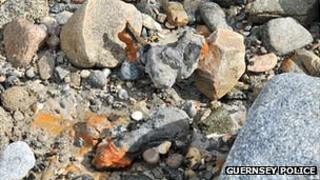 Ten unexploded World War II mortar rounds were detonated by Guernsey Police after they were found on a bay in the north of the island.
The force's explosive ordinance disposal team were called to Pembroke Bay shortly after 11:00 GMT after a walker found the 5.5cm mortar rounds.
The shells were detonated in several separate controlled explosions where they had been found on the beach.
A police spokesman said the rounds were "too corroded and dangerous to move".
The mortar rounds are believed to have been fired from a position on Chouet Headland, created by the German occupying forces.