Queen Victoria wedding gift sold at auction in Guernsey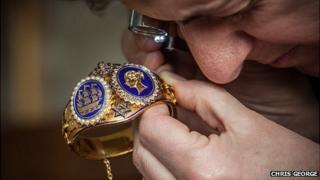 A royal wedding gift commissioned by Queen Victoria and Prince Albert has been sold for £11,500 at auction.
James Bridges, director at Martel Maides Auctions in Guernsey, said the gold, diamond and pearl bracelet was made for one of their daughters.
He said it was one of a few examples of Victoria's presentation jewels to have been sold openly for many years.
Mr Bridges said it had attracted potential buyers from across the world.
He said the bracelet was "enormously symbolic" because of the death of Prince Albert six months before the wedding.
When Princess Alice married Prince Louis of Hesse on 1 July 1862 in the Isle of Wight it was described as a sombre affair as everyone was still mourning.
The inside of the bracelet is engraved with the words: "To dear Alice from her loving parents Albert and Victoria R who though visibly parted are ever united, April 25 1862".
The bracelet was part of the estate of Professor Leonard Shaw, who built up collections of Russian art, firearms, furniture, jewellery and paintings by old masters.
The Bradford-born entrepreneur made his fortune by inventing, developing and selling moisture-sensing technology for use in the textile industry.
He lived in Guernsey from 1976 until his death in 2010 and was well known for his many charitable donations, which included the funding of a community centre in the parish of St Martin that was later named after him.
The bracelet was sold to an anonymous bidder and will remain in a private collection.