Guernsey gifted 'unique medieval records'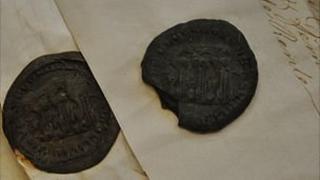 Guernsey has a unique record of medieval properties thanks to the efforts of one historian, according to the island archivist.
The documents called livres de perchage were collected by Hugh Lenfestey, who passed away in February last year after a short illness, aged 77.
His family organised the records and donated them to the Island Archive.
Archivist Dr Darryl Ogier said they were more detailed than those found elsewhere.
'Snapshot'
He said: "Although England and other places have their manorial records... they're not quite the same... they're not as detailed.
"[The records] date from the late 15th Century describing the fiefs and listing the properties on the fiefs for the purpose of collecting revenues.
"Typically they list properties by owner, their name obviously and then a description of what they own".
He said the principal use of the records was in tracing the history of properties.
"They were issued every generation, so you get a snapshot of the fief every 30 years or so... so you can see how the property has changed.
"Some have been lost but I'm confident Hugh Lenfestey obtained a copy of every one that is in existence.
"You can build up a history of Guernsey properties in a way you can't do in other jurisdictions."
Mr Lenfestey dedicated his life to the island's history and the donated documents also include maps of all the fiefs and an index of Guernsey place names.
He also established the Island Archive in 1986.
'Saved history'
Gillian Lenfestey, his widow, said it was his wish and nice symmetry for his work to end up in the archive he had helped to create.
She said: "He set out from a very early age, I think he was only 17 or 18, going round the island talking to people, being encouraged by his grandfather to collect things and saying 'If you don't want those books can I have them?'.
"As far as I know there is nothing like this in Jersey or any of the other islands, nor even in France or England.
"He in effect saved the medieval history of the island."
All of the records have been photographed by Brian de Jersey and Angela Radford and the digital versions can be viewed by the public at the Island Archives and the Priaulx Library.
Mr de Jersey said the collection involved about 42,000 separate images.