Guernsey to Jersey waste export decision 'a year away'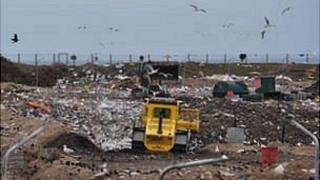 It could be more than a year before any decision on whether Jersey will accept exports of waste from Guernsey, the Jersey minister responsible has said.
Last February Guernsey States agreed to introduce kerbside recycling and explore exporting the island's waste under a new waste strategy.
Jersey is one of 18 jurisdictions being investigated.
Deputy Kevin Lewis, transport and technical services minister, said it was "quite a lengthy process".
He said various agreements and permits needed to be put in place, which all needed to be approved by both island's governments.
Deputy Lewis said it would be "another year or so yet."
If Guernsey's waste was exported to Jersey it would be used in the La Collette energy from waste plant, which has spare capacity.
Deputy Lewis said: "There is a downturn in the economy so we're not having as much refuse coming in as we normally would. I think we're going to have spare capacity for a few years to come."