New Guernsey waste strategy 'too complex' says former deputy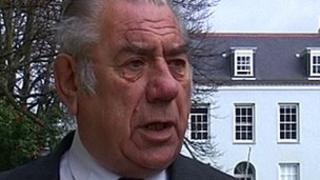 A former Guernsey States member says he is getting increasingly annoyed by the complexity of the new waste strategy.
Peter Bougourd, who was a member of the old Board of Admin and president of the Public Thoroughfares Committee, said he was concerned about the costs.
In February 2012, the States of Guernsey agreed to introduce kerbside recycling and explore exporting the island's waste under a new strategy.
Jersey's incinerator is one of 18 being investigated.
Guernsey's current landfill site Mont Cuet is predicted to be full by 2022.
The island's household waste recycling rate is currently 49%, but the States of Guernsey agreed targets of increasing it to 50% by the end of this year, 60% by the end of 2018 and 70% by the end of 2025.
'New charges'
Mr Bougourd said people in Guernsey could become disillusioned with all the different initiatives for disposal and said it was a shame an incineration option was ditched.
"What's the difference between burning it here or burning it in Jersey? It's burnt, it's burnt," he said.
The Public Services Department wants the new centralised waste strategy to be rolled out over the next few years, but it would mean the cost of rubbish collection for the average household would almost double from £100 to £190.
Board member Deputy Yvonne Burford said that when the new charges came in they would be linked to the amount of rubbish householders produce.
Public Services Minister Paul Luxon said the parishes had done a fantastic job disposing of black bag rubbish up until now, but the department had to find the most cost effective way of dealing with waste.
He said ten different parishes with ten different systems no longer made sense.