Guernsey club 'not notified' of change in closing time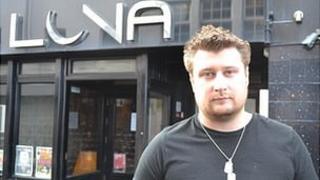 A Guernsey nightclub owner was angry he was not notified the island's clubs would have to close at 01:00 GMT on Sunday morning.
Adam Burroughs, who owns Fusion, said it was the first time they had been forced to close at 01:00 at the start of British Summer Time.
The clocks went forward one hour at 01:00 GMT.
Guernsey Police said Fusion's licence was until 02:00 and with the time change it meant it was closing time.
Mr Burroughs said: "In the past when there is a change in licensing hours such as Christmas and Liberation Day, we receive notification from the head of liquor licensing, but we received no such notification that we had to close early.
"We believe this decision cost Fusion around £3,000 in lost earnings and jeopardises our good standing with our customers who had their evening cut short."
The national standard set by the UK government is for clocks to go forward one hour at 01:00 on the last Sunday in March, and they go back one hour at 02:00 on the last Sunday in October.