Carton recycling dumped in Guernsey landfill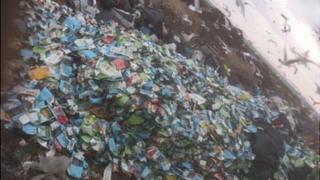 A tonne of cartons set for recycling had to be dumped when they were contaminated with hydraulic fluid.
Normally, the cartons are taken from the recycling banks for processing and baling before being shipped from Guernsey for recycling.
Tina Norman-Ross, recycling officer, said it was a "very rare" incident.
She said the States Works truck had leaked hydraulic fluid on to the recycling.