Alderney Bayeux Tapestry panel shown to French visitors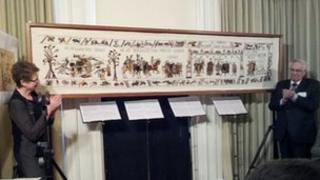 Visiting French dignitaries say they have been impressed by Alderney's final section for the Bayeux Tapestry.
Embroiderers on the island have been working for a year to complete the work, which was officially unveiled at Alderney's Island Hall earlier.
Francoise Zeller, the deputy mayor of Bayeux, said it was exactly how the original should have ended.
"It's marvellously well done. It's exactly like [our] tapestry... so we are very happy," she said.
The original Bayeux Tapestry - actually an embroidery - is 70m (230ft) long and was woven to tell the tale of King Harold's final encounter with William the Conqueror in battle.
Until now, that tale did not include the coronation of William, which happened on Christmas Day 1066.
Colour and detail
Historians believe the final segment of the Bayeux Tapestry was lost, so islanders began making their own.
Members of the Alderney Tapestry Project started a year ago and finished their work in February.
Sylvette Lemagnen, the curator of the Bayeux Tapestry Museum in Normandy, attended the formal unveiling earlier and praised the colours and the detail of the work.
Also in attendance at the Island Hall was Jean Francois Le Grand, president of the Conseil de la Manche.
Mme Zeller said she would love to see Alderney's section side by side with the original.