A third of Guernsey deputies say they will refuse rise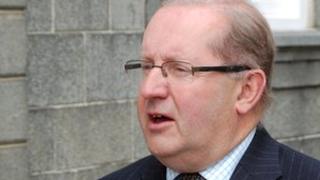 A third of Guernsey States members have said they will refuse a 3.2% pay rise which is due from 1 May.
BBC Guernsey asked all 45 Guernsey deputies and both Alderney representatives whether they would accept the increase.
Of the 25 who responded, 17 said they would not take the extra money, while none stated that they would.
There has been a strong public reaction to the proposed increase following a pay freeze offer for manual workers.
Listeners to BBC Guernsey and islanders using social media highlighted a contrast between the 0% offer for some States employees and the rise for politicians.
The latter is calculated on the basis of the rise in median earnings on the island, following a recommendation by an independent panel tasked with assessing States members' pay.
A move by St Peter Port Deputy Jan Kuttelwascher to freeze deputies' pay until 2016 was defeated by 32 votes to 15 in September.
'Personal choice'
Among those to say they would refuse the rise was Deputy Dave Jones, who voted against the Kuttelwascher requete.
"I voted against the pay freeze being suggested because it is not for me to decide the pay of other deputies. That is quite rightly the job of the independent pay review panel," he said. "It must always be a matter of personal choice."
Deputy Allister Langlois, the social security minister, said he would accept "a pay rise, if any, equal to that awarded to the public sector employees in the coming tribunal".
Deputy Langlois represented the States, as employer, on the panel which recommended the 0% offer.
That rate will be considered by a tribunal at the end of this month, after a meeting of about 200 employees voted in March to reject the offer but also to reject industrial action.
Ordinary deputies receive a salary of £32,155, with the 10 ministers getting £44,350 and the Chief Minister £58,520, although it is believed that some members do not take their full entitlement.
These rates were voted upon by the previous States in January 2012 and represented an increase in basic pay of £5,000.
However, the same proposals ended the members' pension scheme, along with the majority of allowances and extra pay for those serving on departments or committees.