Guernsey Electricity plan to demolish houses rejected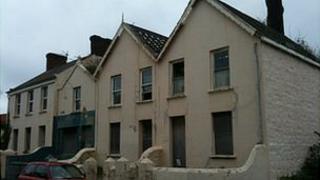 A request to demolish four derelict houses has been rejected by Guernsey's Environment Department.
Guernsey Electricity, which owns the properties, asked for permission to level the site, but it was unanimously rejected at an open planning meeting.
The houses have stood empty for more than a decade.
During the meeting, questions were raised by panel members as to why the Vale Avenue Cottages had been allowed to deteriorate to their current state.
Deputy Tony Spruce said: "I thought it was a disgrace. Guernsey Electricity have neglected those properties to such an extent over the last 12 years that they're now almost derelict."
Sally-Ann David, Guernsey Electricity's corporate strategy director, said the company was disappointed not to be allowed to take the "pragmatic step" of demolishing the houses.
Power station expansion
She said: "The application was made on the understanding the site is considered unsightly and is becoming potentially unsafe and was a temporary measure to improve the area while further plans for the site's use are drawn up."
Ms David said any development would need to be balanced with possible future expansion of the neighbouring power station.
She said: "We have always maintained that Guernsey Electricity should focus on investing for the benefit of the island's electricity network and not seek uncertain commercial gain through property development."
Deputy Spruce said he would be raising the issue with the company in his role as a member of the Treasury and Resources board and therefore a shareholder of Guernsey Electricity on behalf of the States.