Man jailed for importing drugs into Guernsey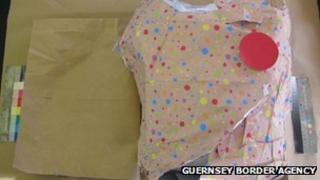 A man has been jailed for 12 years for importing illegal drugs into Guernsey.
Stephen Dale Risbridger, 52, a builder from the UK, pleaded guilty to charges of importing illegal narcotics, and was sentenced by Guernsey's Royal Court.
He used an unnamed woman to drive his car on to the island from a ferry while he arrived as a foot passenger.
When stopped by Guernsey's Border Agency, drugs with a potential resale value of up to £407,415 were found.
The woman told officers Risbridger was her boyfriend, owned the car and had travelled on the same ferry from Poole in July 2012.
A Guernsey Border Agency spokesman said Risbridger was tracked down to a local pub where he was arrested and found to be carrying a small amount of cocaine.
The spokesman said in Risbridger's car they had found 5,402 ecstasy tablets, 12kg of cannabis resin and six vials of anabolic steroids.
Risbridger was given six sentences to run concurrently - 12 years for the importation of ecstasy, six years for the importation of cannabis resin, one year for each of three counts of importing steroids and seven days for importing the cocaine.
The border agency spokesman said: "We have not encountered such a substantial amount of ecstasy for a number of years.
"We hope [this] sentencing for this serious smuggling attempt will act as a powerful warning to those contemplating getting involved in drug trafficking."