Guernsey animal charity to release two seal pups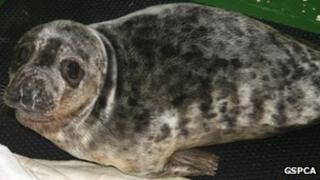 Two seal pups, rescued from the waters around Guernsey, are ready to be released back into the wild after being cared for by an animal charity.
The two mammals were named after the locations where they were found - Jethou Bumblebee and Hanois.
Steve Byrne, the manager of the Guernsey Society for the Prevention of Cruelty to Animals (GSPCA), said they would be released next week.
He said the time and location would be a secret to avoid any crowds.
"We aren't disclosing when and where we release them, as we don't want to stress them when they go back to their natural home environment," he said.
Mr Byrne said islanders had donated hundreds of kilograms of fish in order to feed the seals back to health.
The GSPCA has been looking after Jethou Bumblebee since November and Hanois since January.
They were rescued after being spotted by members of the public.
"They have had no direct human contact for some time to ensure that, after the intensive care they first had when they arrived, they are de-sensitised from people feeding them," Mr Byrne said.