Guernsey plan to merge services for property sale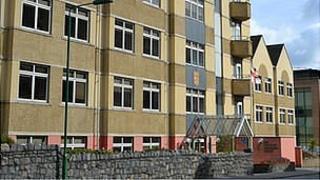 Plans to combine Guernsey States services to allow some publicly-owned properties to be sold are put forward by the Policy Council.
If approved the States would also move out of some rented buildings.
Treasury and Resources Minister Gavin St Pier said: "This is about improving and modernising our facilities."
In the past five years the States has sold off property such as Belvedere House in Fort George for £5m and Baubigny Farm in St Sampson for £1.5m.
It has also leased other buildings and put others on the market.
'Radical rethink'
It is expected common services, such as payments to States departments, would be based in buildings such as the Sir Charles Frossard House, Edward T Wheadon House, the Guernsey Information Centre and the King Edward VII site.
Mike Brown, chief executive, released a statement to all staff in which he said: "Over the years the States has acquired a great many properties which it has used as offices or to provide a range of public services.
"Some have been purpose built but with the passage of time and changing standards are no longer fit for purpose.
"Because of the way in which the States has worked in the past, most of these buildings have been acquired and developed on a department by department basis and not as part of any overall strategy or plan."
He described the plan as a "radical rethink of how the States uses its property".
The report is due to go to the States this summer.