Guernsey court jails pair for importing heroin by post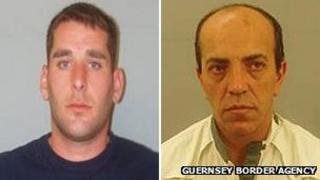 Two Portuguese men have been jailed for importing drugs including heroin into Guernsey through the post.
Jose Sebastiao Fernandes, 27, who lived in the island, and Fernando Moreira Cerejo, 43, from the UK, pleaded guilty to the importation charges when they appeared in the Royal Court.
Fernandes was sentenced to five years and Cerejo to three years and nine months.
The court recommended both be deported once their sentence has been served.
Two parcels were intercepted by Guernsey Border Agency in October. The first contained 4.36g of heroin, or diamorphine, inside a box of chocolates and the second 20 suboxone, or buprenorphine, tablets in a clear plastic bag.
The agency then sent a similar parcel to the residential address of Fernandes, who was not present but was later arrested.
The sender's addresses on the packages were fictitious, but officers established that Cerejo had sent them and he was arrested when he flew into the island in November to visit his friend.
Fernandes was jailed for five years for the heroin importation and one year for the charge of importing suboxone, to be served concurrently. Cerejo was jailed for three years and nine months for the heroin importation and nine months for importing suboxone, also to be served concurrently.
A border agency spokesman said the drugs seized had a potential resale value of between £2,225 and £4,450.