Guernsey waste strategy costs rise by £21m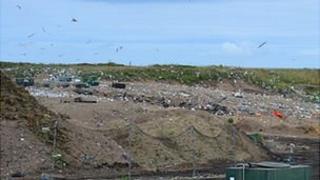 Guernsey's waste strategy is expected to cost £21m more than originally forecast, according to the public services minister.
The cost of the infrastructure for the recycling and export of waste has risen from £3m to £24m.
Deputy Paul Luxon said longer term costs had fallen, so the overall cost of the strategy would not rise.
However, he agreed to a call for more detailed estimates to be presented to the States for approval.
Major mistakes
Deputy Tony Spruce, who initiated the call, said: "If export is the best value option for Guernsey I'm happy to sign up for it but I don't think it's right... to base decisions on incorrect information.
"We might be making a major mistake... because it's you and I and the rest of the public who will pay for this forever so we don't want to pay more than we need to."
Two previous strategies, both based around energy-from-waste incinerators, were first approved before being rejected by the States.
The two reversals cost the island nearly £12m on exploring the options.
Deputy Luxon said complex capital projects were subject to "hefty annual price rises".
'Guernsey uplift'
He said the latest options under consideration all required an initial capital expenditure.
The three options are to export the waste, use heat treatment or make the waste into a fuel which would then be exported.
Deputy Luxon said: "The final cost is going to be much cheaper. The capital cost for the waste strategy infrastructure is higher than originally reported in February.
"There were some items not included in the original report and one of the big items are Guernsey uplift, the difference between UK costs and Guernsey costs - those figures weren't included in the States report."