Guernsey Police prosecute States of Alderney after crane snap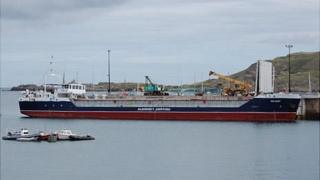 Guernsey Police will prosecute the States of Alderney under health and safety laws after part of a harbour crane snapped.
Last August, the jib of the crane snapped while loading freight onto a ship. No-one was hurt in the incident.
Louis Jean, chairman of Alderney's Estates and Services Committee, said safety procedures were being reviewed.
He said it was a "most regrettable incident and one which we must be certain does not happen again".
Mr Jean added: "The committee is not complacent and has already undertaken a review of the procedures in place across those areas where plant and vehicles are used.
"As a result of that review a number of changes in procedure have been proposed, not least better record keeping and the establishment of very clear lines of responsibility for our assets.
"We will examine the report from Health and Safety very carefully to establish whether any additional measures need to be put in place."
The case is due to be heard in Guernsey's Royal Court next month.