Guernsey imports milk from Jersey after dairy breakdown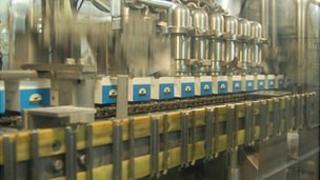 Guernsey is importing milk from Jersey after machinery broke down at the dairy's main processing plant.
All milk is now being processed through a smaller processing plant, normally used for organic milk only.
A dairy spokesman said UHT milk was being imported from Jersey to make up the shortfall.
The dairy hopes normal production will resume by the end of the week and in the meantime supplies to those in care are being prioritised.
Andrew Tabel, general manager of Guernsey Dairy, said his team was working 24 hours a day to make sure some milk was available for health and residential care facilities.
He said the smaller unit was able to process 500 litres an hour, while the main unit could handle anything up to 9,000 litres an hour.
Mr Tabel said: "We're having difficulty with sourcing a spare part with our equipment supplier, we've been on the case and so have they since Monday morning when the problem first came to light."
He said they had enlisted the help of a local manufacturing company to rewind the 18Kw electric motor, which failed on the main plant.
Mr Tabel said no milk produced by dairy farmers would be wasted as up to 65,000 litres could be stored while the problem was solved.