Guernsey fire and police stations could occupy one site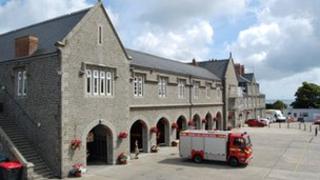 A plan to sell off numerous States of Guernsey properties could result in the island's emergency services being housed under one roof.
Under the proposed Strategic Asset Management Plan, the properties - including the current fire and police stations - could be sold off.
The States hopes to raise £18m from the sales, £12m of which would be reinvested in new building projects.
The proposals will be debated by States members at their meeting on 30 July.
'No strategic plan'
The remaining £6m would be allocated against the Financial Transformation Programme .
The States has set itself the task of finding £31m worth of annual, recurring savings by the end of 2014, in order to erase the deficit caused by the decision in 2008 to reduce corporation tax to 0%.
Staff employed at the current locations would be subject to short-term moves to temporary office buildings.
These short-term facilities would be leased from the private sector for what the States described as competitive rates.
Chief Minister Peter Harwood and Treasury and Resources Minister Gavin St Pier - who co-signed the proposals - said the property portfolio was overdue such a rationalisation.
"Despite being the largest owner of land and property in the island, the States currently has no overall strategic plan by which it determines how best to allocate and manage its property portfolio," they said.