Guernsey to get Sir Isaac Brock bust 'in two months'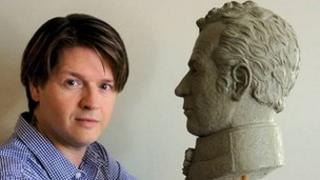 A bust of Guernsey military hero Sir Isaac Brock has been completed and will be shipped to the island, from Canada, by the end of August.
Sculptor Christian Corbet was due to unveil the bust in St Peter Port on Brock Day last year (13 October), but he was unable to get to the island.
He has now revealed this was due to his receiving a commission to produce a bust of the Duke of Edinburgh.
The Duke's bust was unveiled this week, at Canada House in London.
Mr Corbet, who founded the Canadian Portrait Academy, said: "Sir Isaac Brock's at home in my studio in New Brunswick and he's waiting patiently to get boxed up and sent."
'Saviour of Upper Canada'
The bust, he explained, is being gifted to the island in celebration of Major General Brock's contribution to paving the way for Canadian statehood by repelling American invasion during the War of 1812.
The Guernsey-born general's greatest victory was at the Battle of Detroit, for which he received his knighthood, but he is most associated in Canada with his heroic death at the Battle of Queenston Heights on 13 October, 1812.
His conduct led to him being dubbed The Saviour of Upper Canada.
Mr Corbet's family moved to Canada from Guernsey in 1913 and he said his great great aunt had impressed on him the importance of treasuring his Guernsey roots.
The artist, who was awarded the Queen Elizabeth Diamond Jubilee Medal last year, said he anticipated the bust would be received by the Bailiff "within the next couple of months" and would be exhibited at Castle Cornet, which overlooks St Peter Port harbour.
"Hopefully, this time round, it won't get lost," he said.
Duke substituted
Mr Corbet said his bust of Prince Philip had gone missing on Tuesday, when neither his Canadian courier, nor the company taking receipt of it in the UK were able to tell him where it was.
Its whereabouts were confirmed on the morning of the unveiling but the ceremony had to be put back by 30 minutes, with the artwork arriving seven minutes before the royal party.
The Duke of Edinburgh had been due to unveil it himself but due to his recent operation and subsequent convalescence, it was instead unveiled by the Duke of Kent.
The bust was commissioned by the Royal Canadian Regiment to celebrate the 60th anniversary of Prince Philip becoming its Colonel-In-Chief.
The Canadian High Commissioner to the UK, Gordon Campbell and Col Joe Aitchison, the regiment's commanding officer, also attended the ceremony.