Alderney Fly-in organisers pleased by success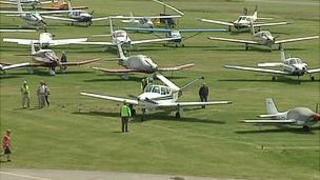 The success of the Alderney Fly-in could see it return as an annual event, organisers have said.
The event had run for 20 years before it was cancelled in 2004 because of a lack of entries.
At the weekend it replaced the Guernsey Air Rally which could not be held due to ongoing work at Guernsey Airport.
David Chiswick, one of the organisers, said the rally not being held was the incentive needed to start the Alderney event again.
More than 100 light aircraft and 300 people from across Europe came to the island for the event.
Gary Elson, co-organiser from the Guernsey Aero Club, said the whole island had "really got behind" the event.
He said: "Our air rally is more of an aero club event... the two events will co-exist quite happily.
"It's good to see Alderney back on the calendar, it shows there is the demand for a Fly-in in Alderney."