Guernsey Brothers' Cemetery restoration 'went too far'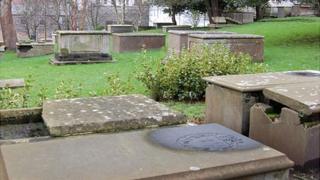 Restoration work at one of Guernsey's oldest cemeteries has been halted by the Church of England after concern work was going further than agreed.
Work to tidy up Brothers' Cemetery by volunteers working with the States archaeologist began last year aimed at allowing public access to the site.
Canon Paul Mellor, the island's Anglican Dean, said he called a stop to work as it went further than agreed.
The site's future is being discussed by the Church and parish officials.
St Peter Port Parish previously applied for a faculty, which is the right to undertake work on Church grounds, but because of some objections it was refused though permission was given for some repairs and clearing up.
Another faculty application has been made to see if work can resume.
There are 130 tombs in the cemetery including those of three former bailiffs and two Seigneurs of Sark.
Phil De Jersey, the States Archaeologist, said in clearing up the volunteers had removed some bricks from one particular tomb in order to rebuild it as it had collapsed.
Canon Mellor said: "A misunderstanding arose about [the volunteers] doing some clearing up... it obviously meant one thing to one party but another to another and what's begun to be done is major restoration work in an area that is consecrated ground.
"To do that sort of work you need a faculty, the reason for the faculty is the protection of artefacts and especially, in a graveyard, sensitive artefacts."
He said before a faculty was approved members of the public would be allowed to raise concerns about the work.
Barry Cash, St Peter Port Constable, said the parish wanted to make the area "a nice peaceful place for people to go for lunch or some quiet reflection".
He said: "We applied for the faculty in the first place as the tombs in there are very dangerous, there are drops of four or five metres and they are open which is why the gates are always kept shut."
Mr Cash said it would be good to use the area for the "benefit of the parish" as it has been closed for more than 30 years.