Six injured as boat grounds on rocks off Guernsey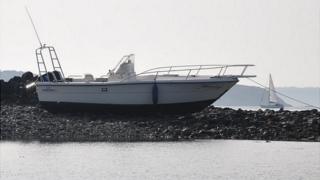 Six men were injured as a boat hits rocks off the north east coast of Guernsey.
The 17ft cruiser Mon Ami, with seven men on board, ran aground near the Vale Castle about 23:00 BST on Friday.
The inshore rescue boat, three ambulances and seven firefighters were involved in the rescue.
The injured men were transferred to A&E with limb fractures and injuries to their faces, heads and chests, but none required further treatment.
John Le Page, station officer for Guernsey Ambulance and Rescue Service, said it appeared to have been travelling "at some considerable speed" and was "firmly lodged on the rocks".
He said: "It was a particularly dark night which made the rescue attempt all the more difficult.
"The tide was falling rapidly and the inshore rescue boat had to continually reposition itself so as not to get stranded on the rocks and become another casualty."
Mr Le Page said two of the crew had waded ashore before the emergency services arrived and gave details of their injuries to paramedics.
He said Guernsey Fire and Rescue Service stabilised the vessel as the tide dropped.