Alderney Commercial Quay sea defence work begins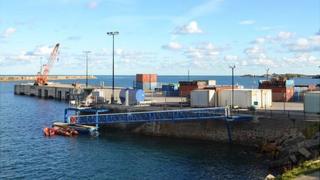 Work to repair a sea defence for Alderney's Commercial Quay has begun.
Damage to the stone revetments at the eastern end of the quay was discovered shortly after a £12m refurbishment.
Harbour users have been told to expect some disruption during the works, which are expected to last until October.
Louis Jean, chairman of the Estates and Services Committee, said: "It is the only location on the island where we can land cargo and fuel and we need to make sure we can continue to use it."
He added: "I hope that the public will bear with us while this important work is completed over the next four months and also take care while in the area of work."
The project, which has a budget of up to £700,000, involves removing a 10m (33ft) by 5m (16ft) section of retaining wall, removing 25m (82ft) of the current revetment before building a three-layered revetment and replacing the retaining wall.