Guernsey's German WWII markings uncovered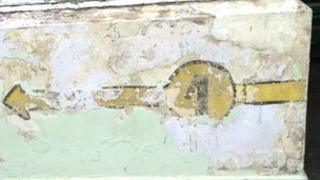 Prisoners working on a restoration project in Guernsey have discovered German road markings from the World War II.
The prisoners are currently giving an old tram stop along the island's east coast a face-lift.
They uncovered the signs as they began stripping off layers of paint.
Ian Brehaut from local historical group Festung Guernsey said it was an exciting find.
"It is very important, at one time in the 1960s and 70s there were signs surviving on walls and junctions but they have largely disappeared. So finding this new one is exciting from a historical point of view," he said.
Prison Governor Dave Matthews said giving prisoners the opportunity to work outside the institution was vital as it helped them feel part of the community.
He said: "There is a lot of enthusiasm, not a lot of people get the opportunity to do this sort of work, it is a rigorous process."