Sarah Groves murder trial in Kashmir adjourned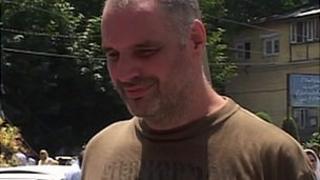 The trial of a man accused of murdering Guernsey woman Sarah Groves in Kashmir has been adjourned for three weeks.
Dutch national Richard de Wit has pleaded not guilty to the charges of murder and illegally fleeing the state.
The court ordered the adjournment to allow the prosecution more time to prepare its case as it had presented no physical evidence and only one witness.
The judge said he hoped for a decisive and conclusive hearing when the trial resumed on 23 August.
Single witness
BBC reporter Riyaz Masroor said the prosecution had not presented evidence which it said showed Mr de Wit's fingerprints on the dagger and knife allegedly used in the murder.
He said despite 40 witnesses being listed by the prosecution only the owner of the houseboat where the murder took place had turned up to the hearing to present evidence.
Mr de Wit's lawyers repeated claims that he was being framed, saying he was being used as a "scapegoat while the real culprit has been protected".
Miss Groves, 24, was found stabbed to death in a houseboat, where she had been living with a local family, in Srinagar in April.