CT Plus bring in new Guernsey bus routes after feedback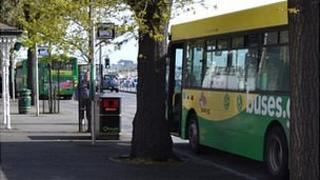 Guernsey bus contractor CT Plus has introduced new routes on its winter timetable.
The company has increased the clockwise round-island route (91) from four-a-day to every two hours and has reintroduced an anti-clockwise service (92).
CT Plus was heavily criticised for removing hourly services on these routes when it introduced a new timetable in April 2013.
The revised timetable is due to come into effect on Monday.
Karl Guille, the traffic and transport services manager at the Environment Department, said: "CT Plus has been listening to islanders.
"They've made a lot of adjustments based on the responses we've had from individual parishioners."
Other changes include direct links between the airport, the Grange in St Peter Port and the Princess Elizabeth Hospital and more services which get commuters into St Peter Port before 09:00 BST.
However, the Environment Department - which determines the fare structure - said it would stick with its policy of charging non-residents a flat £2 fare for single journeys, despite concerns about the possible effect on tourism.
Residents are charged £1 for single journeys.