Tattooed Maori head returns home from Guernsey Museum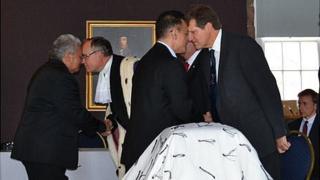 The mummified head of an "important chief or warrior" has been returned to the Maori people by a Guernsey museum.
The Toi moko was in one of the 19th Century collections from which the island's museums service was created.
It was among hundreds traded with Europeans from the early 19th Century on, which New Zealand's national museum is trying to repatriate.
The head was handed over to Maori elders and New Zealand officials in a ceremony at Castle Cornet earlier.
It involved music, chanting and the blowing of a conch shell.
Te Herekiekie Herewini, manager for repatriation for Te Papa Tongerewa (New Zealand's national museum), said it was "about informing him at a spiritual level that he will soon be returning home".
'Spiritual connection'
He said more than 800 ancestors were believed to have been traded for muskets and European goods in a practice that was outlawed in 1831 but continued for more than 100 years after.
Mr Herewini said: "They have a spiritual connection to our country and they should be returned so both their spirit and their life force is united with our part of the world.
"We come from a culture where both the everyday and the spiritual walks with us and so we believe the ties to our ancestors have never been severed even though they have been overseas for maybe 100 to 200 years."
The head has not been displayed or photographed in line with Maori belief.
Dr Jason Monaghan, director of Guernsey Museums, said: "It's the decapitated head of man, which has been mummified, it's completely tattooed all over the face... it's probably the head of a senior chief or an important warrior.
"[The delegation] said it was quite an old one and probably someone who was quite senior and quite important because of the quality of the tattooing that was done."
He said: "The heads of the ancestors were retained, like holy relics, and they were brought out at particularly important meetings.
"Also if you attacked a neighbouring tribe you would steal their heads during the battle and you might return them as a part of the peace treaty.
"The Maori believe people should be buried in their home earth so having this very important person on the other side of the world is actually quite upsetting."
'Reclaim their culture'
The New Zealand delegation is due to collect seven other Toi moko and five koiwi tangata (Maori skeletal remains) from four institutions in the UK and Ireland before returning them to New Zealand on 29 October.
They will be kept in a sacred repository at the national museum until their tribal origins can be identified when they will be released for burial.
Mr Herewini said: "Over the last 50 years Maori culture has been accepted as the indigenous culture of our country.
"Many European New Zealanders are coming to terms with how to accept our culture and come to terms with our history... so there is a growing desire for repatriation."
Dr Monaghan said: "The Maoris were being assimilated into New Zealand culture and then in the '60s and '70s they started to reclaim their culture back, their language and they're getting increasing recognition in New Zealand.
"In Guernsey it would be very easy to just become English... and forget Guernsey is a special place... we lose our culture at our peril."