Easyjet pull out of Guernsey to Gatwick route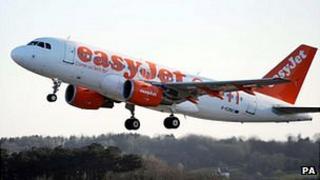 Easyjet has withdrawn its application for a licence to operate to and from Guernsey, the airline has confirmed.
The airline had wanted to fly between the island and Gatwick from 2014.
A spokesman said the company carried out a commercial evaluation that took into account uncertainty around plans to give exclusivity to Guernsey airline Aurigny on the route.
Guernsey Treasury Minister Gavin St Pier has called for Aurigny to be protected from competition.
He is seeking changes to the policies followed by Guernsey's air route licensing authority in relation to the Gatwick route.
Easyjet purchased landing slots at Gatwick airport from Flybe in May. Flybe currently fly between Guernsey and the London airport but will stop flying the route from March 2014.
This will leave Aurigny as the sole operator on the London route.
In July, the States agreed to act as guarantor to allow Aurigny to buy a new jet for approximately £25m.
The Commerce and Employment department, responsible for issuing licences, said they would not comment further.
Aurigny were not available for comment.