Sark group calls for Chief Pleas to work with SEM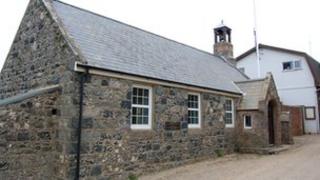 Sark's government needs to "stop squabbling" with the island's largest investor, according to a campaign group claiming to represent 70 residents.
Sark in Action for Families and Employment (SAFE) was set up earlier this year after tensions between Chief Pleas and Sark Estate Management (SEM).
Group member Tony Le Lievre said: "They need their heads knocking together."
Conseiller Andrew Cook said Chief Pleas was open to "any business proposition that is sensibly put forward".
Kevin Delaney, SEM's managing director, was not available for comment.
Earlier this week, he accused Sark's government of being a "one-party ruling regime" which had conducted a "continued campaign of harassment" against him and the businesses under his management.
In his role as the editor of the Sark Newsletter, Mr Delaney has also claimed Chief Pleas is a government "reminiscent of 1930s Germany".
Tensions between the two parties have previously had economic consequences for the island.
Taxes up 15%
In 2008, SEM temporarily shut down most of its operations after its favoured candidates failed to win sufficient support in Sark's first democratic elections.
Last year SEM laid off 100 of its staff claiming Chief Pleas had failed to support tourism in the island.
Its development of vineyards in the island has attracted criticism from some islanders - including members of Chief Pleas - who said they were worried about the environmental impact of the project.
A survey by Sark's Chamber of Commerce earlier this month indicated six out of every seven business owners (85.9%) believed the island's economy was performing poorly.
This came days after Chief Pleas voted to increase most taxes by 15% in order to balance the budget.
Mr Le Lievre warned that if SEM and Chief Pleas did not co-operate better with each other, the economic situation in the island would worsen.
He claimed as many as 50 people had already left, or were considering leaving, the island.
'Retirement home'
"It's because there's no prospect of any work this winter and if you don't have work, you can't pay your bills," he said. "So, quite simply, it's up sticks and go somewhere else."
Mr Le Lievre accepted much of the exodus could be due to the seasonal nature of many Sark job opportunities but said "we've never experienced it quite to this degree before".
"This place cannot remain a retirement home," he said. "We can still keep it very special but we've got to have an economy.
"It can't be something that's left to fester and takes 10 years to sort out, otherwise there'll be nothing left to sort out."
Mr Cook pointed to a recent series of economic workshops, undertaken with the help of the UK Ministry of Justice and Guernsey's Policy Council, as evidence of the efforts being made by Chief Pleas to engage with islanders.
He said these were attended by 150 residents.
"We're available for anyone to talk to us - particularly any members of SAFE - and we're very open and available to all ideas," he said.
According to a summary provided by the Policy Council, the economic workshops "highlighted the need for Chief Pleas to further embrace its role in defining a vision and economic development plan".
"This will help Chief Pleas to encourage the creation of an environment that is conductive to economic growth," it said.
No single committee within Chief Pleas currently has overall responsibility for developing economic strategy.