Guernsey St John rescue team clears rubbish from cliff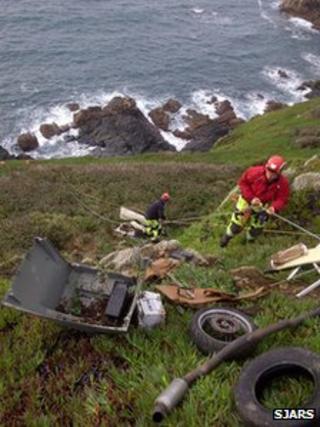 Fly tipped rubbish thrown over a Guernsey cliff has been recovered by the island's cliff rescue team.
Items including electronic goods, car parts and a motorcycle helmet were retrieved from La Prevote in St Peter.
A team of five carried out the work on Thursday and said they regarded it as a training exercise, having been asked by the Environment Department to help out.
The rubbish had been tipped over the cliff several weeks previously, out of reach of refuse collection contractors.
Dean De La Mare, the acting senior officer for the St John Cliff Team, said: "We were only too pleased to help."
"We use the cliffs on the south coast a lot during training," he said. "We feel we've got a responsibility - along with the rest of the island - to maintain their natural beauty."