Guernsey ambulance emergency calls 'need prioritising'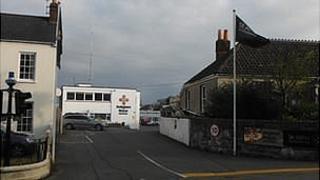 Urgent improvements are needed in how emergency calls are handled by Guernsey's ambulance service, according to an independent report.
The review, launched as the service run by St John is struggling financially, made 49 recommendations.
These included looking at who should run the service and how it is funded.
Chief Officer Jon Beausire said he welcomed the report, which commends the service and provides construction comments on how it could improve.
He said the service had been losing money for the past four years and the review agreed "the current model was not sustainable financially".
Last year the States loaned the service £500,000 to help cover its £3m a year running costs, although Mr Beausire admitted it was not clear when the service would be able to return this money.
He said the service had already implemented a number of changes, as the report was released to the service in May, but some of the recommendations were about healthcare, so were for the health department to consider.
Joint control centre
The report found inconsistencies in how calls were handled in the control room and suggested a review of staffing levels to ensure adequate, appropriate cover was in place.
Mr Beausire said he had been asking the States for money to improve the control room for a number of years, but now had an assurance from the Health and Social Services Department that funding would be made available.
He said these were likely to be introduced along with the development of a joint emergency services control centre, due to be brought in by 2015.
Mr Beausire said: "The emergency services have been working closer together operationally for a number of years and it makes sense the control centre is one entity."
He said once the changes were in place those calling 999 with an emergency call would notice no difference.
However, Mr Beausire said: "It's very easy to identify a critical emergency... that will always receive an ambulance response.
"Those callers who don't have a critical illness or injury will be questioned a lot more in the future than they are now."
Those who do not need immediate treatment will be directed to other healthcare providers.
Increasing charges
Currently islanders can sign up to the St John supporter scheme, £24 for an adult annually, which means they are not charged if they need an ambulance.
Anyone without the scheme, or visitors, have to pay a £260 call out charge.
Mr Beausire said of the charges: "It's going to have to go up and we're looking at revising both the charging structure and the membership of the St John's supporter scheme for next year."
He said one other area of work, due to be completed by January was to give the emergency road ambulance service and St John's voluntary work their own "clear identities".
Mr Beausire said while the ambulances were their "most high profile" service they also provided youth work, a cliff rescue team, an inshore rescue boat and a marine ambulance.