Guernsey boat owners critical of harbour hose removal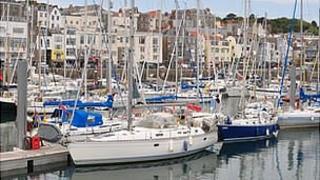 A lack of consultation over the removal of hoses from Guernsey's public marinas has been criticised by boat owners.
The Harbour Authority removed the communal hoses as they were used for a number of different purposes, including drinking and cleaning toilets.
It said they had to be removed to stop a "potential health risk".
Peter Derham, president of Guernsey Boatowners' Association, said members had complained it was "implemented without any consultation whatsoever".
He said members questioned why the decision was not delayed until it could be discussed at their next quarterly meeting with the Harbour Authority later this month.
Captain Chad Murray, harbour master, said: "[It follows] a review of all our facilities and procedures identified this potential risk to health and safety... we felt we needed to act quickly to protect the public."
He said they tried to engage with all harbour users when possible, but in this case there was an urgent need to remove a potential hazard.
Captain Murray said having to provide your own hose was "commonplace in other marinas" and he kept a spare hose on his boat for when he visited other places.
'Infection or contamination'
Harbour director Sarah McGreevy said: "The water supply on the pontoons is used for various purposes. That could be to simply wash down the deck or top up a drinking water tank.
"However, it could equally be to clean out oily bilges, flush a sewage holding tank, unblock a toilet or wash down pets after swimming in the sea, to name just a few.
"Our problem is we have no control over how they were used, but we do have a duty to protect marina users from potential infection or contamination."
She added: "The water supply on the pontoons will still be there, so there is a fairly simple solution which is boat owners having their own hoses.
"We hope that is not too inconvenient for users, and it gives them confidence of knowing what the hose has been used for recently, as only they have access."