Guernsey social housing points system 'flawed'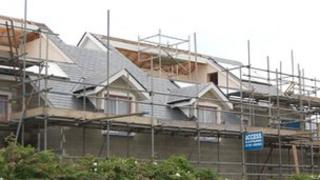 The stepfather of a man with disabilities says finding social housing in Guernsey has been made more difficult by flawed waiting list rules.
Peter Fernandez cares for his 23-year-old stepson Sam Winterflood, who is autistic and suffers from epilepsy.
He said his stepson was unable to enjoy more independence because his current accommodation was not deemed to be causing his health to deteriorate.
The director of housing strategy said the rules did not discriminate.
James Roberts said: "While there isn't a fast-track system - or anything like that - both the Guernsey Housing Association (GHA) and the Housing Department do liaise with Health and Social Services."
Both the housing department and the GHA use a points system to determine positions on their waiting lists.
Mr Fernandez said: "For a disabled person, or someone with a long-term condition... the problems that we all face in accessing housing in Guernsey are just multiplied."
He criticised the stipulation that a disabled person's current housing needed to be deemed to aggravate their condition before they would be considered for States housing, unless they had dependent children or were over 65.
"If you've got a long-term condition, it's probably going to be something that's with you for your entire life," he said.
"It's hardly likely to be aggravated by your current conditions."
'Demand outstrips supply'
He said a disabled person would effectively be penalised for continuing to live with his or her parents - thereby accumulating only 10% more points each year.
Mr Winterflood is currently housed in "assisted-living" accommodation provided by the charity Autism Guernsey.
Mr Fernandez said he feared this type of housing would not teach his stepson to have the independence he needed for when his stepfather died.
Mr Roberts said the points system had been in place for a number of years and ensured allocation was driven by need.
"How suitable is your current accommodation?" he said.
"That's probably the bottom line... but there are annual reviews and people do move up the list."
The Housing Department has 1,700 units of accommodation, while the GHA - which works in partnership with the States - has 500.
Steve Williams, the director of the GHA, said: "The points system is something that we're looking to refine all the time."
"The challenge is that demand outstrips supply, so we have to try to prioritise somehow," he said.