Guernsey to Southampton morning flight 'may not be lost'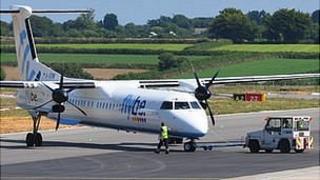 The early morning Southampton flight from Guernsey Airport could continue even if Flybe closes its base in the island, the airport director says.
The airline is consulting with staff and unions about closing six of its British Isles bases to save £85m.
Colin Le Ray, airport director, said an empty plane could be flown to the island and used to take passengers to Southampton, to arrive before 08:00.
Twelve people will lose their jobs if the base is closed.
Mr Le Ray said until Flybe finalised its plans it was unclear what the impact on passengers and airport revenue would be.
The airport receives a fixed fee for each plane that lands, and a variable fee depending on the number of passengers it carries.
Mr Le Ray said closing the base did not have a direct impact on revenue, but may have a "marginal" indirect effect if the airline rents less space and fewer car parking spaces.