Alderney Airport hangar lease approved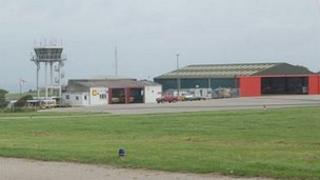 A second hangar is to be built at Alderney Airport in a deal with a private company.
The consortium will pay an annual rent for Hangar 2 of £500 until 2016 when it will double.
Louis Jean, States and Services Committee chairman, said it was badly needed but the government could not to provide the finance.
He said: "The existing hangar is well used and for a long while they've needed more space."
"The States of Alderney haven't got the money to invest in that at the moment, so letting them do it like this is a good way of getting it done," he added.
Moves to improve the airport, which is run by Guernsey's Public Services Department, and especially its runways are being pursued by some Alderney politicians.
Mr Jean said: "The two are very different but in my opinion have the same aim and that is to improve the airport... so when the recession clears this island can begin to come up again."