Guernsey roads to undergo first comprehensive survey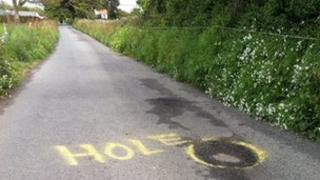 The first comprehensive survey of the condition of Guernsey's road network is being undertaken by the island's public services department.
Minister Paul Luxon said the two-week survey would lead to "more informed decisions" on spending priorities.
The asphalt on newly resurfaced roads is normally expected to last 20 years but weather conditions and roadworks can reduce that.
During 2012, the island's roads were dug up 820 times.
Mr Luxon said the survey would ensure the department was "making better use of limited resources".
"In future years, it will also allow [the department] to verify the condition of the roads is improving," he said.
Peter Falla, the department's administrative officer, said this was the first such survey undertaken.
"Previously it's been piecemeal, getting feedback from highways inspectors and also from the public," he said.