Alderney's 'missing piece' of Bayeux Tapestry goes to France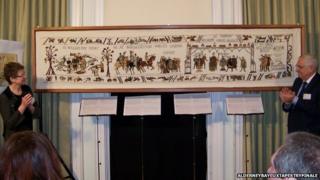 Alderney's home-made piece of the Bayeux Tapestry is to be exhibited in the Bayeux Tapestry museum, Normandy, France.
The famous embroidery featured 58 scenes depicting the Norman conquest leading up to the Battle of Hastings.
Experts suggest William the Conqueror's Christmas Day coronation, in 1066, would have originally been included.
In 2012, islanders took up the challenge to finish the work and made a 10 foot panel in a year.
The work was the brainchild of Alderney librarian Kate Russell, Alderney artist Pauline Black and retired teacher Robin Whicker.
More than 400 islanders - plus Prince Charles and the Duchess of Cornwall, during their Diamond Jubilee visit to the Island- added stitches to the piece.
French authorities have been so impressed they have commissioned the exhibit to go alongside the original tapestry in time for Bayeux's annual medieval festival, July.
The work will remain on show until mid-September.