Condor ferry strike ends after two weeks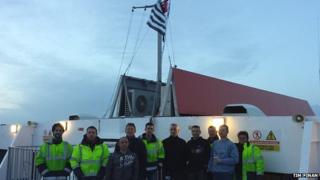 Crew who have been occupying a Condor ferry in St Malo, France, in a row over pay and conditions will return to work after they agreed new terms.
Condor's French crew took industrial action on 6 February, which has seen sailings cancelled and cost the company, it said, up to £500,000.
James Fulford, Condor CEO, said he was delighted the crew had agreed to return to work.
He said he hoped to have sailings to France return on Thursday.
Mr Fulford said: "Nobody is a winner out of this situation, it has been very difficult for Condor and very difficult for our crew.
"They have made a very courageous decision, it is the right decision for themselves, the company and the islands.
"They get a lot of protection under French law, there was very little we could do to get them back to work."
Representatives for the Guernsey-owned company had been on board the vessel to discuss terms with representatives from the International Transport Workers' Federation (ITF).
Condor said it could not afford all of the striking crew's demands but was pleased they had come to a compromise.
Mr Fulford said: "We are trying to get a crew, these guys are out of action as they have been on the boat now for two weeks.
"We need a suitable crew on the boat before we can get up to Jersey, Guernsey and back to St Malo tomorrow."