Guernsey WW2 bunker to open to public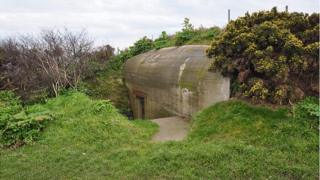 A well-preserved World War 2 bunker in Guernsey will open to the public in the spring.
The bunker near the Halfway was built by the German occupying forces as part of Hitler's Atlantic Wall, which aimed to stop any Allied invasion of Europe.
A range-finding mural and fixtures remain in place in the structure that originally housed an anti-tank gun.
Paul Bourgaize, from historical group Festung Guernsey, said it is in "amazing condition".
He said the reason for the bunker's good condition - it is on the island's exposed east coast - was a mystery.
The doors, grills, German writing and electrical fitting can all still be seen.
Mr Bourgaize said: "We're told this was open for quite some time [after the war] so people were able to come in and out, but for some reason it was left all alone."
The group has restored the inside after digging out the entrance.
Its members will open the bunker and provide information about other defences along Belle Greve Bay during the Visit Guernsey's military themed Heritage Week in May.
Mr Bourgaize said it would allow people to "learn how the defences worked together as well as individually, they were all designed to be mutually self supporting".
Before the bunker was closed the only surviving range board from a 4.7 anti-tank gun bunker was removed and put on display at the German Underground Hospital.
Mr Bourgaize said they knew it was from this bunker using photographic evidence and had created a copy.
He said: "[It] basically gave them all their aiming points, it gave them all the landscape in front and also pieces of paper cut out maybe from a recognition manual showing different types of tanks and landing craft."