Guernsey animal shelter releases birds injured by storm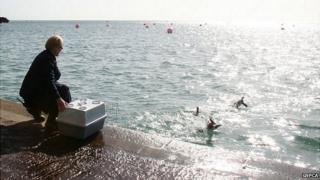 The first of the Guernsey seabirds injured by the stormy weather have been released back into the wild.
The four guillemots, found at different places around the coast, were taken to the Guernsey animal shelter for treatment in January.
Yvonne Chauvel, senior animal care assistant, said releasing the birds was a "day to warm the heart".
Fourteen guillemots, a gannet and two seal pups are still being cared for at the shelter.
Ms Chauvel said it was a joy to release the birds, having seen "so many injured and dead seabirds around the Channel Islands recently".
"When we let them out they grouped together and swam off," she said.
"As we've rung them hopefully we'll get reports in the future that they all are doing well."
The shelter urged anyone who finds a sick or injured seabird to contact them.
A survey held at the weekend found 86 dead birds along the island's coastline.