Isle of Man has 'wettest winter for almost 50 years'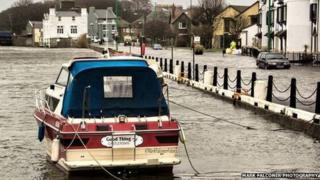 The Isle of Man has had its wettest winter for almost 50 years and the second wettest since records began in 1947, the island's Met Office has said.
The total rainfall from December to February was 14.7in (374.3mm), just 5mm below the Isle of Man record from the winter of 1965/66.
The total number of days with measurable rain was the highest on record with only six dry days.
According to Met Office figures, it was also the windiest winter on record.
The mean wind speed over the three month period measured 21.3 mph, beating the previous winter record of 20.5mph in 1989/90.
There were 20 days with winds reaching gale force or higher, which is double the long term average.
The worst winter storms came on the 27 December and 12 February, with gusts reaching 74mph and 78mph respectively.
Forecaster Dave Brown said: The most significant impact was the tidal storm surges that caused significant harbour flooding and coastal damage in early January and less so in early February."
He added: "The upside of all these Atlantic storms though, is mild temperatures."
Ronaldsway had a mean winter temperature of 7.5C, which is 1.7C above the long term average and the fourth mildest on record.
The UK has had the wettest winter since national records began in 1910, the Met Office has confirmed.
Separate records held for England and Wales also show the heaviest rainfall since they were started in 1766.