Guernsey chief minister candidates dismiss conflicts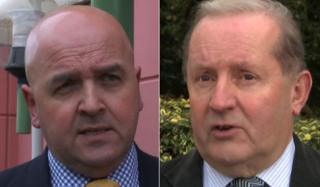 Both candidates bidding to be Guernsey's new chief minister say they have no conflicting business interests.
Nominations closed on Thursday, with Deputy Chief Minister Jonathan le Tocq and Social Security Minister Allister Langlois putting their names forward.
The election was prompted when Deputy Peter Harwood stood down after he was criticised over his former role as Channel Island Stock Exchange director.
Politicians will elect the new chief minister on Wednesday.
Mr Langlois said: "I have run a successful business consultancy for the last 25 years. It is now dormant.
"I have no directorships outside of that and I would not take any one during a period as chief minister."
Mr Le Tocq said: "It would be very difficult to have two candidates without any connections anywhere, I think you have to be realistic.
"But at the same time we must mitigate and minimise any perceived conflicts as well."