Charity takes over Guernsey Women's Refuge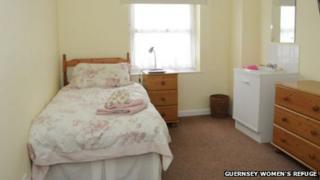 Domestic abuse charity Safer will take over the running of the Guernsey Women's Refuge as part of moves to improve the service.
The refuge, which gets an annual £20,000 States grant, has struggled to fund new projects.
The merger aims to pool resources and enhance the service available to victims of abuse.
The refuge opened in October 1998 and offers shelter to female victims of domestic abuse.
Home Minister Jonathan Le Tocq said: "Over the last four to six years, a great deal of change has taken place in terms of national policy and practice and it is vital when dealing with such a vulnerable and high-risk section of the community that Guernsey is abreast of these changes.
Safer chair Maggie Costen said the refuge's current board had done an excellent job over the past 15 years but had decided it was time for "new blood with new ideas".
She added that the the number of high-risk individuals and families they supported was continuing to grow.
"But we believe that this is down to individuals feeling confident to report abuse, rather than an increase in the amount of domestic abuse that is occurring locally," added Ms Costen.