Alderney chief executive job to be shared until appointment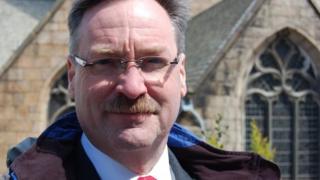 The Alderney chief executive job will be shared until a permanent member of staff is appointed, the States has said.
The current chief executive, Roy Burke, will leave for a new position later in May.
The aim is to ensure the role and responsibilities are covered until a new appointment is made.
Kerry Hatcher-Gaudion, the States treasurer, will act as named chief executive for the interim period.
Stephen Taylor, who has been working with the chief executive on a range of projects over the last 18 months, will also join the team, the States said.
Francis Simonet, chairman of the Policy Committee, said: "It would of course be preferable to have a seamless transition, but that has not proved possible due to time constraints.
"We are pleased that we have been able to agree interim arrangements that will enable us to continue our current programme with a view to handing over to a new chief executive as soon as the recruitment process is complete."