Plans for Guernsey Fire Service to introduce non-emergency charges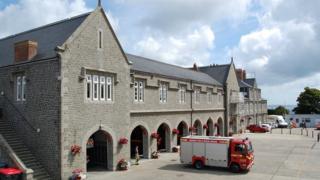 Guernsey's fire and rescue service could charge for a number of services to businesses under new proposals to be discussed.
The non-emergency services, such as building inspections, are currently offered free of charge.
Home Minister Peter Gilson said allowing the charges would require a law change. He said there would be no charging for emergency services.
The proposed charges are due to be debated in the States next month.
Mr Gilson said: "The goal of setting fees is to recover the cost of providing commercial services."
Chief Fire Officer Jon Le Page said it was important for islanders to know that the fees would not affect normal emergency services.
"The fire service has significant expertise in matters of fire safety and we are keen to improve this safety through sharing our expertise," he said.
"By recovering the cost for providing these non-emergency services, we will be able to share this knowledge more widely to those in the community who request it, without increasing our costs to the general taxpayer."
Deputy Gilson said the fire service would make about £12,500 per year from providing services to businesses.