Alderney Bayeux Tapestry appears on stamps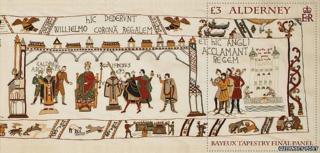 A final panel of the Bayeux Tapestry created by a community project is to be celebrated in a special collection of Alderney stamps.
The famous embroidery has 58 scenes showing the Norman conquest of England, including the Battle of Hastings.
More than 400 people, including Alderney residents, visitors and the Prince of Wales and the Duchess of Cornwall, stitched the 10ft (3m) panel.
The stamps include a small replica of the panel printed onto cotton.
Dawn Gallienne, Guernsey Post's head of philatelic, said: "We believe [printing a stamp on cotton] has never been done by any other postal administration in Europe."
The final panel, which was created in 12 months, is due to go on display at the Bayeux Tapestry Museum in Bayeux, France, from 1 July until mid-September.
The project was the idea of Alderney resident Kate Russell, whose fascination with the Bayeux Tapestry started in the 1970s when she first saw the original.
She said: "Not many people realise that the Bayeux Tapestry is incomplete, the final segment having been lost.
"Most experts now believe that a piece portraying a scene of the coronation of William I would have been included in the original work."
Ms Russell said the final panel celebrated the Norman heritage of the island.
The Channel Islands were part of the Dukedom of Normandy, which was ruled by William, and became part of the land ruled by the English Crown after the invasion in 1066.
She said the stamp set was "an honour for everyone who contributed to this project".
"We are delighted that the news of our efforts and of our beautiful island will be sent around the world in this way."