Guernsey senior politician may get more power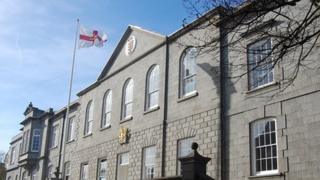 Creating a senior politician with power over funding and resources is among proposed changes to how Guernsey's government is run.
The States Review Committee has made 10 recommendations to adapt the current system rather than radically alter it.
The recommendations include replacing the Policy Council and Treasury and Resources department with a single senior committee.
Under the plan, the committee president would be the senior island politician.
The committee would be responsible for co-ordination of both policy and resources and one of its five members would oversee external relations.
Currently the island's government is made up of 10 departments, three committees and a Policy Council.
The departments are headed by ministers, who do not have ministerial powers and act like a committee chair.
The chief minister, who is the chair of the Policy Council, has no more power than any other member of the assembly - comprised of 45 deputies and two Alderney States representatives.
'Keep to promises'
Chief Minister Jonathan Le Tocq said: "What the review is suggesting is a committee, not made up of heads of department, but a committee that is given the leadership role.
"I would hope with that comes the leverage needed for people to see they have got to keep to promises and deadlines.
"We pride ourselves in being independent, but that doesn't always work to our corporate advantage."
The recommendations include improving the system through a reduction in the number of departments and committees and in the number of politicians in government.
However, no detailed plans have been presented with the States being asked to approve the general idea before work progresses further.
The proposals include a ministerial system of government as the review committee members had "initially inclined" towards this option but were now against its adoption.
Other proposals include changing the way policies, expenditure and legislation are scrutinised through one scrutiny committee.
The findings are due to be discussed at a special meeting being held in July.