Guernsey fisherman finds wartime propeller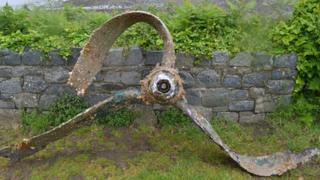 A propeller from a Flying Fortress which went down off Guernsey's south west coast 70 years ago has been brought ashore.
The propeller from the American plane was discovered by local fisherman Seb Le Noury.
The plane went down on 11 June 1944 while it was under attack during foggy conditions.
Mr Le Noury said he hoped the propeller would form a memorial 70 years after the incident.
He was hauling crab pots when he discovered the propeller.
"I just thought it was a big bundle of pots on the end," he said.
"I was lucky, the weather suited and I managed to get a rope to it and tow it behind the boat.
"It took me two and a half hours to get back with that propeller. It normally takes one hour."
The Boeing B-17 Flying Fortress had a 12-man crew but only one person survived.